RJ BENJAMIN WILL BE JOINING ME FOR SEASON 10 of FOLLOW ME – Possibly the most powerful, exciting and informative season ever. Being actively involved in the Music Industry – Having worked on SA's largest TV productions and having recorded and produced some of SA's biggest selling artists in all genres, we are super excited to provide you with the tools that will radically transform your life with rapid results that will turn you into the powerful and fearless Vocalist and performer.
Time to step out and OWN IT!
DATES
Our next run of Follow Me will be
From: 8 September 2018
CLASS DATES
8, 15, 22, 29 September and 6 October 2018
CLASS TIMES
9 am to 1pm
Every Saturday only
COURSE FEE PAYMENT OPTIONS
ONCE OFF PAYMENT (R6500)
R6500 before 3 September 2018
INSTALLMENT OPTION (R7500)
R3750 before 3 September 2018
R3750 before 20 September 2018
After 5 incredible seasons of Follow Me I am astounded by the phenominal results and great success achieved by our students.
ATTENTION ALL SINGERS, PERFORMERS, ARTISTS, MUSICIANS, WORSHIP LEADERS AND HOBBYISTS
Follow Me is an intense 5 week musical, vocal and performance boot camp course, offered exclusively by Malie Kelly herself. This specialised course, is insightful and life changing. An intense musical journey to excellence, providing you with effective tools to make your goals more achievable. It's a powerful introduction into the world of music. 
For more information visit the website or contact Malie Kelly herself or the academy.
Whether you're a worship leader, karaoke singer, a professional artist or somewhere in-between, Malie Kelly will help you achieve maximum results to become that fearless performer.
This intense yet practical "boot camp" course offers rapid growth and development and it majors on vocals and performance. Together with all the elements that will ultimately contribute to a confident, powerful and fearless performance in any genre from pop to musical theater – from successful auditions to the command performance. Everything you need to know about the process of an unforgettable vocal performance.
The boot camp course is for the beginner and the professional. Whatever level you are at, the tools provided in this course are guaranteed to take you to a far greater level. So whether you plan to become a professional or part time singer, Follow Me 2018 boot camp will undoubtedly change your life.
After 20 years of working with professional recording artists and working on South Africa's biggest productions as vocal producer, I am looking forward to providing you with the tools to become a greater vocalist and performer. Teachers may enroll as a top-up refresher course – Malie Kelly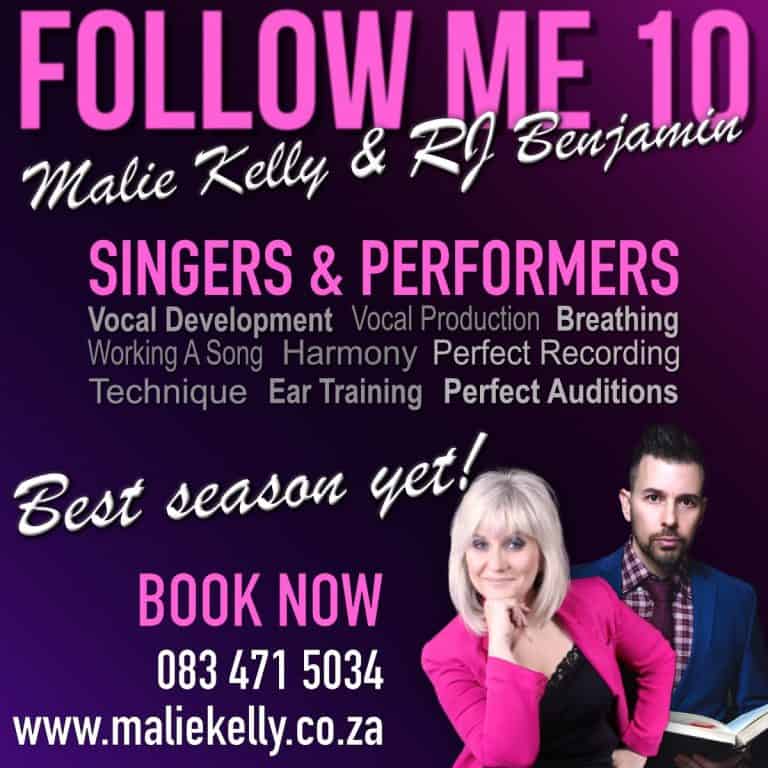 Follow me 2018 Curriculum
Breathing
Technique
Articulation
Control
Intonation
Tone Production
Light and Shade Dynamics
Volume and Belting
How to work a song
Rhythm
Command
Overcoming Fear
Ownership
Commitment
Acing Auditions
The "Fearless Performance"
Have the "Edge"
Being Memorable
Movement
Understanding Different Genres
Loosing yourself
Confidence
Effective Preparation
Rehearsals
To enroll for Follow Me 2018, please contact
Malie Kelly   |  082 852 7065  |  info@maliekelly.co.za
Ashley Kelly  |  083 471 5034  |  maliekelly@gmail.com
We have had an influx of queries and space is limited (small group sessions)
To pre-book your reservation please call or email Ashley or Malie Kelly
Your reservation is only confirmed as soon as full payment is received for your specific course date.
To avoid disappointment, full payment for each course is due 20 days before the starting date – First come first serve!
BE SURE TO CHECK THE MALIE KELLY VOCAL ACADEMY & MUSIC SCHOOL WEBSITE FOR WEEKLY LESSONS WITH INDUSTRY PROFESSIONAL TEACHERS.